Let Double T Inc. find the most suitable K-style rain gutters for your Salt Lake City home. Our team emphasizes high-quality products, efficient installation services, and outstanding customer service. We skillfully install gutters in a timely manner.
What are K-style Gutters?
The term "K-style gutters" draws its name from the outer shape of the type of rain gutter, which when viewed from the side looks like the letter K. This is what makes it different from the usual rounded or half-circular gutters.
Like other types of gutters, however, K-style gutters come in different sizes, so you can opt for these gutters regardless of how wide or narrow your requirements are. These products also come in different base materials typically used for gutters, such as vinyl and steel.
How are K-style Gutters Different from Rounded Gutters?
Rounded gutters may be easier to clean, but K-style gutters generally hold more water. On top of that, the latter feature a unique shape that is less susceptible to bending or breaking due to force or other external factors.
Many homeowners opt for K-style gutters because of the combined functionality and aesthetics. Apart from their strength and durability, these gutters match modern architectural trends and boost your curb appeal.
Get in Touch with Us
Double T Inc. is a family-owned-and-operated company that provides timely and efficient gutter services. Through great craftsmanship, we make your house stand out. Contact us today for K-style rain gutters in Salt Lake City, Utah.
This is What we do
Windows are your view from within your home to the beautiful outside world. We have many stylish windows to give your home and outside a gorgeous aesthetic touch.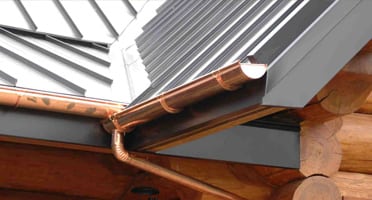 Years of experience has made our partnership with Alcoa the natural choice to help us offer premium seamless rain gutters at an affordable price.
DTI specializes in home siding and exterior solutions. We offer many options of decorative patterns, materials, colors, and design.